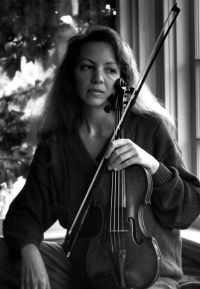 Violinist turned author ERICA MINER has had a multi-faceted career as an award-winning author, screenwriter, journalist and lecturer. A native of Detroit, she studied violin with Boston Symphony Orchestra concertmaster Joseph Silverstein at Boston University where she graduated cum laude; the New England Conservatory of Music; and the Tanglewood Music Center, summer home of the Boston Symphony, where she performed with such celebrated conductors as Leonard Bernstein and Erich Leinsdorf. Erica went on to perform with the prestigious Metropolitan Opera Company for twenty-one years, where she worked closely with renowned maestro James Levine.

When injuries from a car accident spelled the end of her musical career, Erica drew upon her lifelong love of writing for inspiration and studied screenwriting in New York and Los Angeles with script gurus Linda Seger and Ken Rotcop. Erica's screenplays have won awards in a number of recognized competitions such as WinFemme, Santa Fe and the Writer's Digest.

Inspired by journals she wrote during her travel adventures abroad, Erica penned the novel and screenplay of Travels With My Lovers, winner of the Fiction Prize in the Direct from the Author Book Awards. She also has written the feature screenplay and TV Series Bible for FourEver Friends, the first in her journal-based novel series chronicling four teenage girls' coming of age in Detroit in the volatile 1960s, as well as subsequent novel in the series, which are set in Boston and New York. In addition, Erica has written the screenplay of her suspense novel Murder In The Pit, published by Twilight Times Books, which takes place at the Met Opera. She is now at work on a sequel to this highly successful thriller.

Erica's lectures, seminars and workshops on writing and on opera have received kudos in venues across the West Coast, including the Wagner Societies of New York, Los Angeles, San Diego and Northern California; and on the High Seas, where she was named a top-rated speaker for both Royal Caribbean and Celebrity Cruise Lines. Her many topics range from "The Art of Self Re-Invention" to "Journaling for Writers: Mining the Gold of Your Own Experiences", "Wagner and Bernstein: Parallels and Contrasts" and "Opera Meets Hollywood."

Now a well recognized reviewer for Seattle Opera and San Diego Opera, as well as San Diego Symphony, Seattle Symphony and Pacific Northwest Ballet, Erica is a regular contributor of articles, reviews and interviews to:
- BroadwayWorld BroadwayWorld Articles
- Bachtrack Bachtrack Articles
- LAOpus LAOpus Articles
- OperaPulse.com OperaPulse.com Articles
- FINE Magazine

Erica's writings also have appeared in Leitmotive, the magazine of the Wagner Society of Northern California, Italian American Magazine, San Diego Jewish Journal, Del Mar Lifestyle, Opera+ St. Petersburg Music & Art Magazine, Vision Magazine, WORD San Diego, Istanbul Our City, and numerous E-zines.



*The quote,
Murder In The Pit
- "Mystery doesn't get ANY better than this!!!! Buy it ASAP!" is by Amy Lignor, BookPleasures.com
Violinist Photo By: Stephen Dorian Miner
Murder In The Pit
"Mystery doesn't get
ANY better than this!!!!
Buy it ASAP!" *
at:
Barnes and Noble
Amazon.com
Twilight Times Books
Filament eBookStore

In the Seattle, WA area,
Murder In The Pit
is available at:
Edmonds Bookshop
111 Fifth Avenue South
Edmonds, WA 98020
425-775-2789
edmondsbookshop@msn.com
http://www.edmondsbookshop.com


In the San Diego area,
Murder In The Pit
is available at:
Warwick's Books
7812 Girard Avenue
La Jolla, CA 92037
(858) 454-0347
http://www.warwicks.com


In the San Diego area,
Murder In The Pit
is available at:
Mysterious Galaxy Bookstore
7051 Clairemont Mesa Blvd., Ste. 302
San Diego, CA 92111
Tel. 858-268-4747
http://www.mystgalaxy.com/event/erica-miner-signs


In the San Diego, CA area,
Murder In The Pit
is available at:
Barnes and Noble, all locations
http://www.amazon.com


FourEver Friends
is available at:
Amazon.com
Barnes & Noble
Travels With My Lovers
is available at:
Amazon.com
Barnes and Noble

In the San Diego, CA area,
Travels With My Lovers
is available at:
The Book Works Del Mar
858-755-3735.